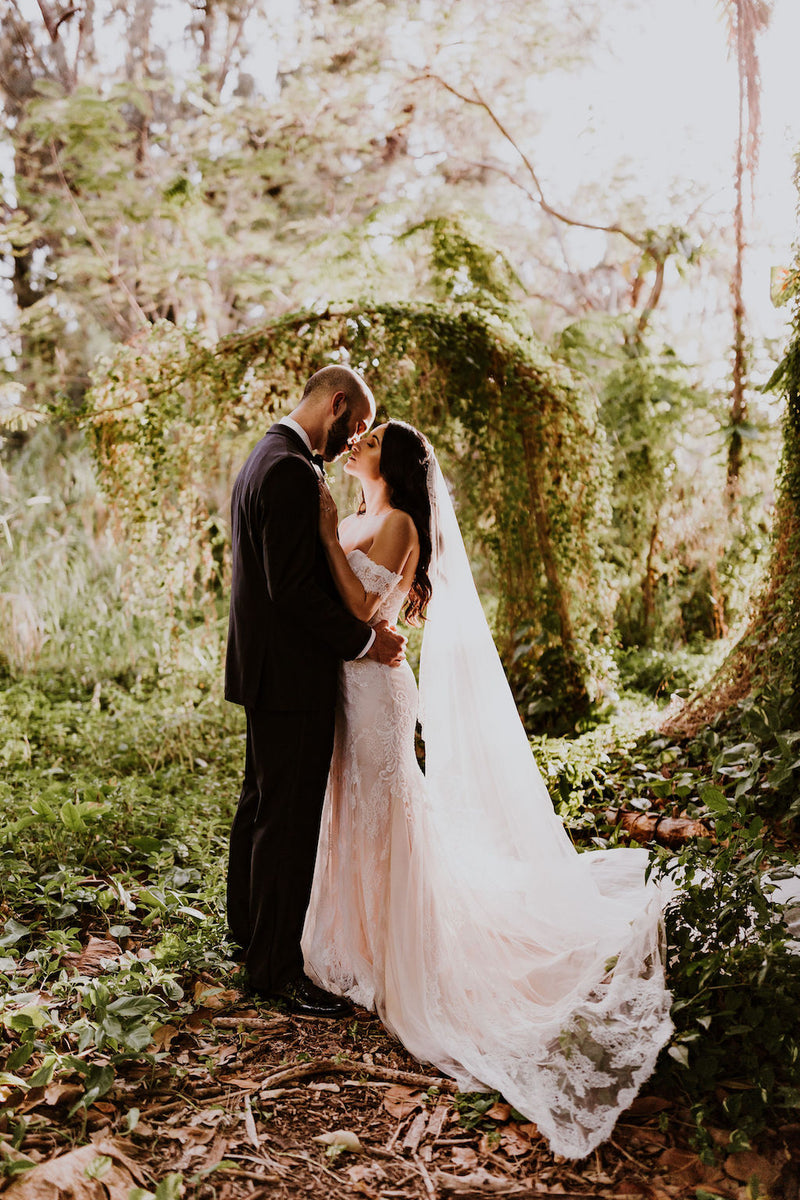 A lot of brides turn to Google when searching for the perfect wedding venue but how many get past the first page? Real Bride Jenna's quest for a wedding venue in Miami that had an old world, Italian feel, lead her through an extensive Google search. The venue of choice was not one that popped up on the first page. Instead, it was a hidden gem tucked back deep onto the 10th page. As you can tell by the photos, the lengthly search was well worth it! If you're getting married in Miami, you'll definitely want to keep scrolling for more photos and to find out which venue she chose! 
How They Met:
Matt and I met our sophomore year of college at the University of Central Florida. Although we are from towns just 30 minutes of each other, we met there and the rest is history. We began dating the beginning of senior year and were able to go through some of the most fun and exciting years of our lives together, got through international long distance, and finally got to start this new chapter in our lives together back home in South Florida. We have been together for almost 6 years now.  
Why They Chose Their Wedding Venue:
This is actually a really difficult question for me because there are SO many reasons! The
Ancient Spanish Monastery
was really everything we could have ever hoped for and was definitely a dream for me. I never even knew of it until we got to page 10 of sifting through many places for our big day online (a lot of people who live here have never even been!). The truth is, it is such a perfectly tucked away piece of magic, history, and culture in South Florida. The feeling you get when you are there (not to seem cliche), but is truly magic. It makes you feel like you are so far from home when you are just around the corner and feels like it takes you back in time. The monastery was built in Spain in the 1100's and later preserved, transported, and eventually reconstructed here in North Miami in the 1960's. The charm and history of it completely fascinated us. 
When Matt and I first got engaged, we also talked about getting married in Italy where our origins are and where I still have many family members today. In the end, we decided we wanted all of the people we love with us and were so grateful to find a place that gave us the old world feel and provided us with so much history and beauty on our wedding day. The monastery is truly a unique and special place to us.  
**PS- A scene from Ace Ventura Pet Detective was filmed there in the gardens (one of our all time favorite movies) and we thought that was amazing too! (Our signature drink was
Ace Ventura themed
). 
 Why She Wore A Mantilla:
I remember looking back on photos of past family members getting married in church with their gorgeous mantilla and have always loved how truly timeless
mantilla veils
are. I absolutely love the style and even more so than my dress style, the only thing I always knew and envisioned was having a mantilla veil to wear on my wedding day. 
Why She Chose The Mantilla Company 
When I was looking around for veils, so many stores wanted between $700-$900 for veils that had nowhere near the intricacy and beauty of the veils I found when I came across The Mantilla Company's site. Putting price aside, the uniqueness of the veils that
The Mantilla Company
had to offer was unlike anything I had seen when looking around. Not only is the quality of the veils incredible (I had so many compliments about my veil from my seamstress and everyone working there), but the style of them is simply what I always wanted; timeless. Additionally, and such an important detail, Gloria was amazing to work with. She helped me choose my veil by seeing pictures of my dress and really cared about me and my hopes for my wedding day. She was so responsive, helpful, and sweet throughout the process and she is the type of person you want to work with when
planning your wedding
. 
Advice for Brides-to-be:
My recommendation to future brides is to work with people and vendors that you like and trust as people. Those are the ones that will go the extra mile to make your day wonderful and working with vendors that I truly trusted and treated me as a friend instead of one of a thousand clients is something that helped us feel so comfortable day of and helped us have so much fun planning with them. It is so easy to get sucked in to
the planning of the wedding
and just remember to look at your fiance when things get tough and remember the significance of all the planning in the first place. Matt and I snuck away from the family the night before our rehearsal dinner, went to our favorite restaurant, split a bottle of wine, and had our last date as girlfriend and boyfriend before becoming husband and wife. It is important to always be in on it together and enjoy the ride because aside from all of the craziness that the wedding might bring, you get to marry your BFF at the end of the day with all of the people you love around you
to celebrate
this amazing milestone in your lives.
About me: In 2010, while shopping for my bridal gown, I quickly realized that bridal stores had a very small selection (or none!) of lace mantilla veils. I ended up getting my veil from Spain and after all the compliments I received on my wedding day about my veil, I knew I had to bring these beautiful, authentic, quality, Spanish-made veils to brides in the US. My husband and I planned the whole business on the plane during our honeymoon! Today, we carry a large selection online of mantilla veils and have been featured in many bridal blogs and magazines. Read more about our story here.
Get Flawless Bridal Style. Unsure which lace veil is right for your dress? We can help! Click Here to get your FREE veil consultation.
Every love story has its unique beginning and Real Bride's Allyson and her hubby's began at the Catholic Church. In this Real Bride post, Allyson shares the details of why St. Anthony's Catholic Church in Des...