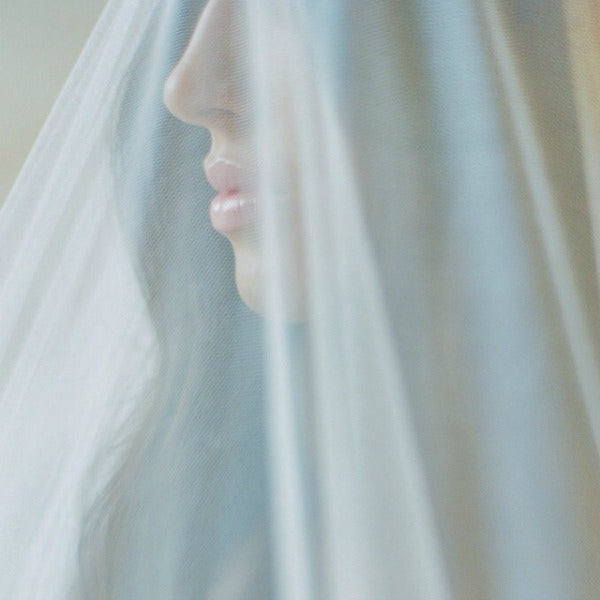 The wedding veil has always been the most iconic bridal accessory. The moment when the veil is put on is the exact moment when the bride truly embodies her special role for the extraordinary day.
Just like the wedding gown, the veil too must be well looked after to ensure that it is in perfect shape for the walk down the aisle. Once your veil is delivered, taking care of it is important to avoid any unfortunate stains or stubborn crease marks that can dampen any bride's glorious moment.
Prep Instructions Before the Wedding:
When your veil arrives in the mail, try it on with your dress to ensure it is the look that you envisioned. Once you've established that you love how your gown and veil compliment each other, it is time to care for your veil. For shorter veils, fold the comb side over the hanger and allow the entire body of the veil to loosely suspend. To avoid slipping, I highly recommend these velvet hangers and metal clothespins.
For longer veils, fold the veil lengthwise 2 to 3 times while shaking out the wrinkles and creases. Fold the veil over a non-slip velvet hanger to avoid slipping.
Once you have properly hung your veil, place it in a protective storage bag to shield it from entangling with buttons, scarves, or other bulky items inside the closet.

Day Before/Day of Wedding Prep Instructions:
A couple of days before the wedding day, take the veil out to prep it for the big day! Unfold the veil to let all the wrinkles release. For stubborn wrinkles and creases, use a steamer to gently straighten it out. This handheld steamer is my favorite! They work as well as my professional grade steamer and are easy to travel with and affordable.
For the day of, hang the veil (by folding the comb side over the hanger and holding it in place with metal clothespins) on a high rod or door and allow for the entire veil to hang without any folds. If your veil has a blusher, hang the veil by clipping the comb upside down as shown in the picture below.
Preserving Your Veil:
When the I do's have been said, storing your veil in a pH neutral environment is essential to prevent it from yellowing. Acid-free boxes or sleeves can be purchased to preserve the veil's original shape and color; perfect for being handed down to the next generation of brides-to-be in your newly formed family!
  As an Amazon Associate I earn from qualifying purchases.
About me: In 2010, while shopping for my bridal gown, I quickly realized that bridal stores had a very small selection (or none!) of lace mantilla veils. I ended up getting my veil from Spain and after all the compliments I received on my wedding day about my veil, I knew I had to bring these beautiful, authentic, quality, Spanish-made veils to brides in the US. My husband and I planned the whole business on the plane during our honeymoon! Today, we carry a large selection online of mantilla veils and have been featured in many bridal blogs and magazines. Read more about our story here. 
Celebrate your wedding in Style. If you would like my expert advice on how which veil works best with your dress, Click Here to get started.
Every love story has its unique beginning and Real Bride's Allyson and her hubby's began at the Catholic Church. In this Real Bride post, Allyson shares the details of why St. Anthony's Catholic Church in Des...