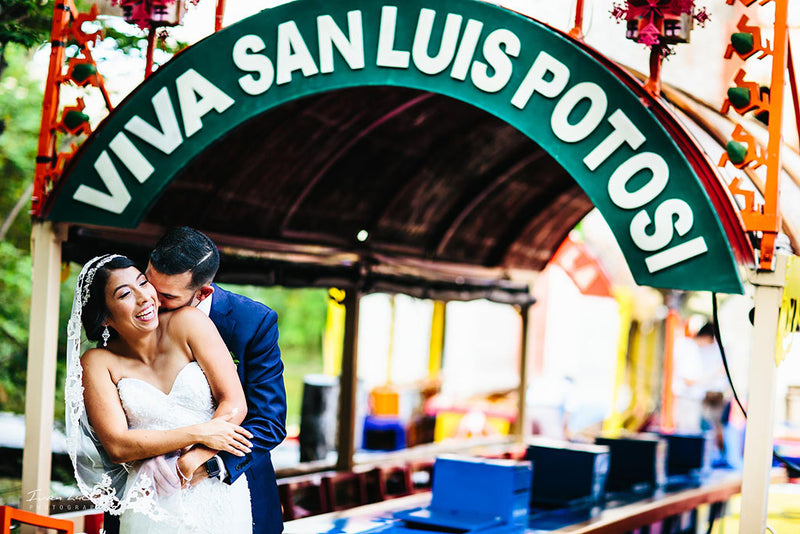 In many respects, Mexico is an ideal place for a destination wedding, at least for Americans. It's not as far as so many paradises people dream of for destination weddings, yet it still offers most of the same benefits: beautiful surroundings, lovely resorts, fun activities for guests, and that special indescribable feeling of just being elsewhere, away from day-to-day stresses, to celebrate the big occasion. But of course, Mexico is a pretty big place, so if the idea appeals you still need to give some thought to a specific destination! Some of these are definitely worth considering.
1. Tulum
Tulum is one of the nicer places in Mexico to visit on the Caribbean side. This is largely because it combines natural beauty with historical ruins and resort properties, such that it seems to have a little bit of everything. This means there's plenty for your guests to do on either end of the wedding, from exploring the famous cenotes, to touring ruins and exploring the jungle, to simply lounging about at a resort - or specifically the resort you choose to have the wedding at! As for the resorts, there are plenty to choose from. Though the Hotel Esencia is particularly outstanding. It's an oceanside resort that feels somewhat secluded, with wonderful suites and comfortable amenities, but nothing approaching a gaudy or touristy attraction to be found. It also happens to be known as an occasional celebrity getaway, which speaks both to its general quality and to that secluded vibe.
2. Conejos Bay
A lot of the focus on Mexican tourism tends to revolve around the Caribbean coast. But the Pacific side of the country has its gorgeous spots as well, including Conejos Bay. The bay is near the southernmost point of Mexico in the Oaxaca region, and makes for an excellent far-flung place to have your nuptials. The Secrets Huatulco Hotel & Resort is sometimes recommended there, and while it's significantly larger and more commercial in nature than Hotel Esencia, it's still got everything you could possibly need for a wedding, reception, and weekend-long party. Plus, if you're looking to have a bigger wedding abroad, there's more than enough space for a large party provided you book a block of rooms in advance.
3. Cancun
Cancun has a reputation as more of a spring break hub, but it happens to still be beautiful and fun during the bulk of time when students aren't on spring break as well! Furthermore, there's a ton to do there. There are famous beaches and watersports to enjoy. There are all kinds of places to eat. As you can imagine, the area also has its share of incredible resorts, and really you can take your pick for a wedding destination. But the Dreams Riviera is the top choice. It has tons of beach space, tiki-style cabanas all over the place, and even its own gardens, in addition to 400-plus rooms.
4. Banderas Bay
Banderas Bay isn't known by name to too many people, though you may recognize it in a way in that it's very close to Puerto Vallarta, which is one of the most famous resort cities in the country. It's also a little bit of a different look than the Caribbean side of Mexico. While the beaches are still gorgeous, and showcase tremendous variety, cliff-like formations stick out of the sea in places and the Sierra Madres mountains are visible in the distance from some vantage points. Puerto Vallarta has a number of suitable resorts to choose from, but here we'll highlight Dreams Villamagna, which is ultimately fairly similar to the Dreams resort just noted in Cancun, but for the mountainous backdrop across the bay.
These beautiful images of our Real Bride, Melissa, were captured by destination photographer, Ivan Luckie. Melissa chose the Zanna mantilla veil in cathedral length. 
 CHECK OUT THESE MEXICAN THEMED PARTY IDEAS 
About me: In 2010, while shopping for my bridal gown, I quickly realized that bridal stores had a very small selection (or none!) of lace mantilla veils. I ended up getting my veil from Spain and after all the compliments I received on my wedding day about my veil, I knew I had to bring these beautiful, authentic, quality, Spanish-made veils to brides in the US. My husband and I planned the whole business on the plane during our honeymoon! Today, we carry a large selection online of mantilla veils and have been featured in many bridal blogs and magazines. Read more about our story here.
Get Flawless Bridal Style. Unsure which lace veil is right for your dress? We can help! Click Here to get your FREE veil consultation.
Every love story has its unique beginning and Real Bride's Allyson and her hubby's began at the Catholic Church. In this Real Bride post, Allyson shares the details of why St. Anthony's Catholic Church in Des...