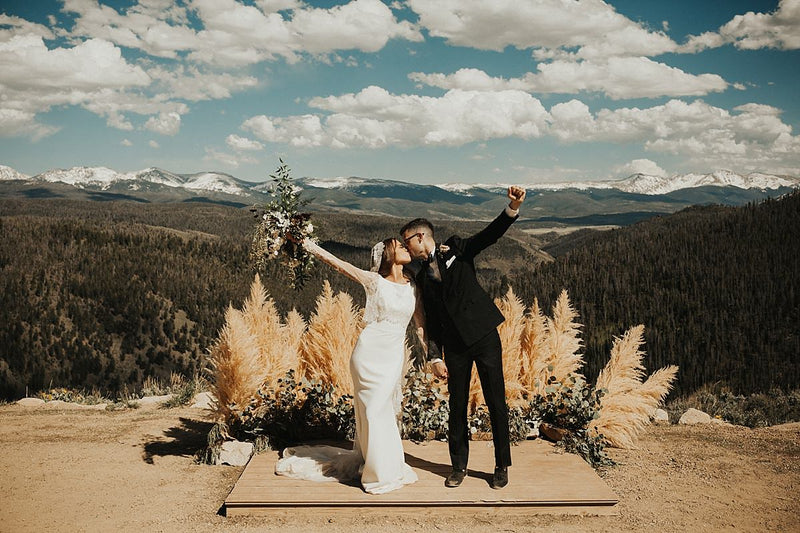 It's amazing what your wedding can look like when nature is your background. Real Bride Emily and Matt's wedding was on a beautiful blue-sky day at Granby Ranch in Colorado. Emily and her friends got ready in a cute yurt (amazing!) then used the ski lifts to head up the mountain (also amazing!). They took their vows at a darling altar adorned with tall wheat colored pampas grass overlooking breathtaking mountain views and clear skies. 
Emily's dress paired effortlessly with her veil, the Lucia mantilla veil in cathedral length. The pair together is simply timeless yet on-trend with the boho look. Below are Emily's stunning photos along with some questions she answered about her wedding day.
All beautiful photos were taken by Kylie Morgan Photography
As an Amazon Associate I earn from qualifying purchases.
"I really genuinely was sooo happy!!"
We had wanted to have a traditional wedding with lots of guests and all of the regular things that go along with big weddings. We began the search for venues and visited a lot of them, made tons of calls, emailed countless people and nothing was working out. My husband is from Northwest Indiana and I'm from Northwest Arkansas so we looked at venues, vendors, etc. here and there and everywhere in between and it was so stressful! And I had dreamed my whole life of my wedding and had always been so excited to plan it, I never thought that I would be one of those people that gets stressed out and has a hard time but I TOTALLY was. When we realized that we were spending a lot of our time stressing out and being unhappy about our wedding we knew it was time to make a change. The goal for us was to have a beautiful marriage, and we kind of lost sight of that in the shuffle of having the perfect wedding. That's when we started looking at maybe doing an intimate wedding, which was really hard for me because I've always dreamed of having the big wedding, but I wanted to make sure we didn't lose sight of the true purpose of the wedding (to be married) and so I told Matt he could choose what we did and he picked Colorado and that was that! 
"Why I Chose a Mantilla Veil"
I had had wanted a
juliet cap style veil
for quite a while before we got married and after we got engaged and I bought my dress, they didn't have any juliet style veils in the store but the closest thing she did have was a mantilla veil and when she put it on I immediately fell in love. Not only with the veil, but for me it made the dress exactly what I wanted it to be. We didn't buy the veil that day however because that veil in particular was wildly over priced and we felt like we could find something better. I had looked all over for mantilla veils, mostly on Etsy, after that and just couldn't find the one. My mom actually found
The Mantilla Company
and showed the website to me one day and I was instantly in love! We could not have been more thrilled with the incredible quality and perfection of my veil, we are still talking about it months later!
About the Ceremony
The ceremony site we chose in Colorado was
Granby Ranch
and it is on top of a mountain where we drove to the base of it, rode a ski lift up, and at the top there was a
bridal yurt
to get ready in!
About me: In 2010, while shopping for my bridal gown, I quickly realized that bridal stores had a very small selection (or none!) of lace mantilla veils. I ended up getting my veil from Spain and after all the compliments I received on my wedding day about my veil, I knew I had to bring these beautiful, authentic, quality, Spanish-made veils to brides in the US. My husband and I planned the whole business on the plane during our honeymoon! Today, we carry a large selection online of mantilla veils and have been featured in many bridal blogs and magazines. Read more about our story here.
Get Flawless Bridal Style. Unsure which lace veil is right for your dress? We can help! Click Here to get your FREE veil consultation.
Every love story has its unique beginning and Real Bride's Allyson and her hubby's began at the Catholic Church. In this Real Bride post, Allyson shares the details of why St. Anthony's Catholic Church in Des...