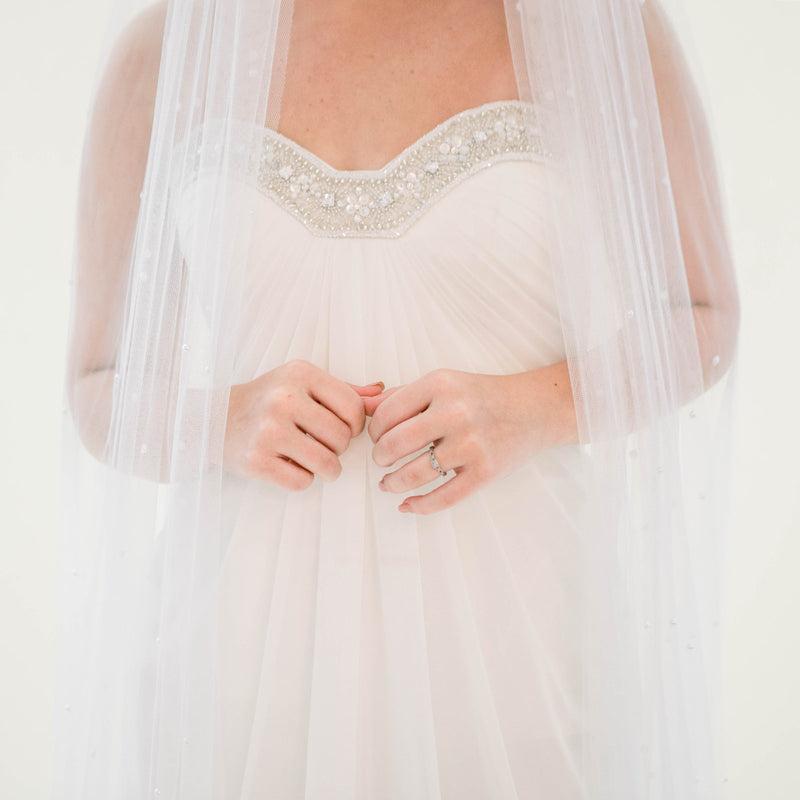 Pearl-inspired weddings and pearl details have been a big hit this year. What's great about having a pearl-themed wedding is that although it is a popular trend for this year, pearls are timeless. They are always on trend because of their elegance yet modern aesthetic. 
The look is very versatile as well! You could do a vintage Gatsby's style, a traditional all white wedding or add an element of sophistication to a beach wedding. The luxurious sheen of pearls can really immense charm and uniqueness to your wedding. 
From white, ivory, blush pink, grey and yes...even green ( ! ) a pearl-theme wedding is also a popular choice because they come in different hues that will compliment any wedding color palette. 
Get ready to amaze your guests! They will love this unique and charming wedding trend. Here are just a few favorite ways to incorporate pearl details for your wedding.
Trend No. 1: Pearl dress, wedding veil and bridal accessories
One of the easiest and impressive (read: show-show-stopping) ways to follow this pearl trend is to include it in your bridal look. Think beyond jewelry. Not only are there shoes and clutches with pearls but you can also find wedding dresses and veils with with pearl embellishments. You can also swap out your veil for a pearl headband to don during the reception. 
Trend No. 2: Pearl wedding cake and decor
There is no limit as to how to incorporate this beautiful wedding trend. Pearls can bring glamour or simple elegance when added to centerpieces, cakes and linens.
This look is easy to recreate with Chivari chairs and a strand of pearls.
Photo by: Tyler Norman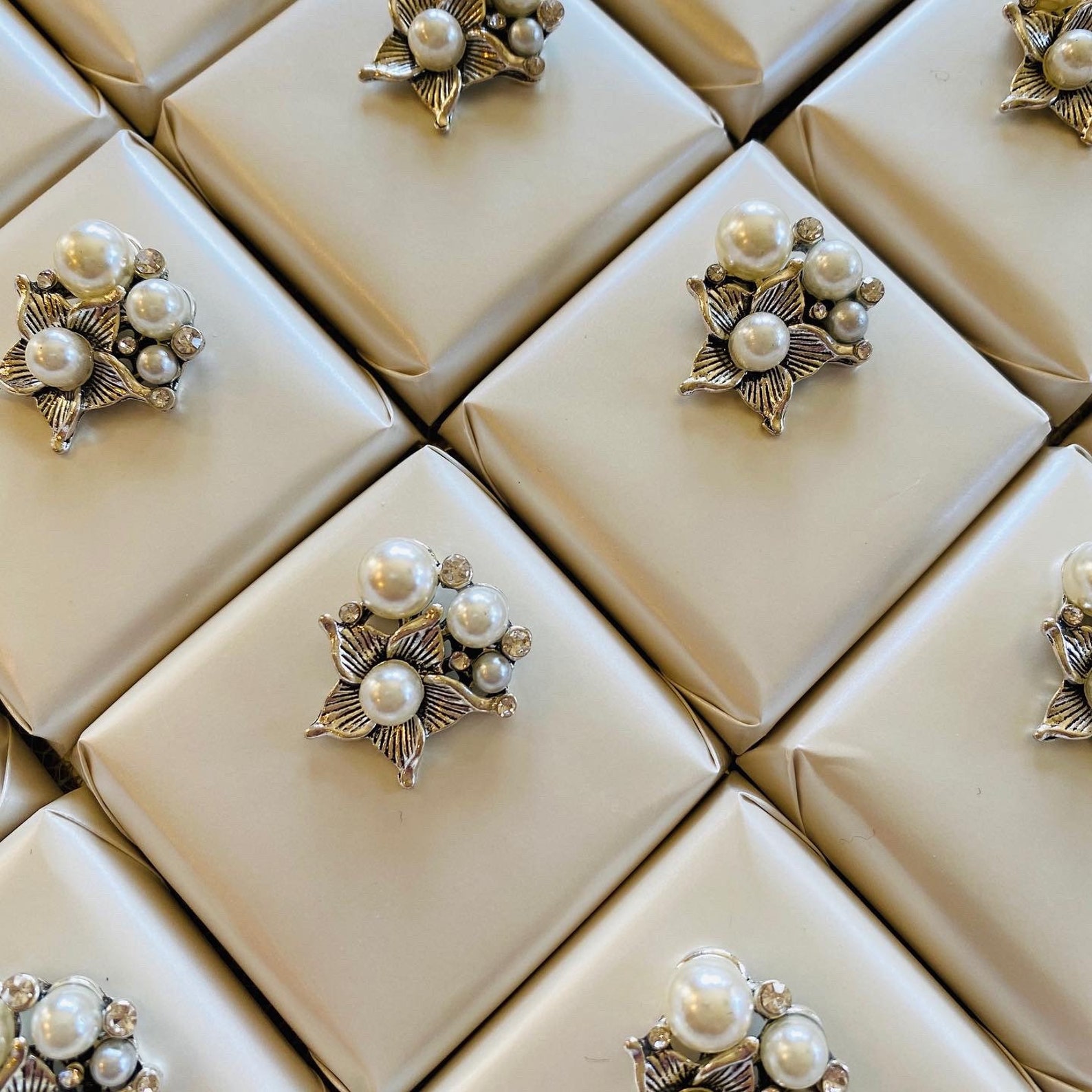 Chocolate party favors wrapped in pearl paper and topped with beautiful pearl accent. Made by Etsy seller: Chateaunicandnat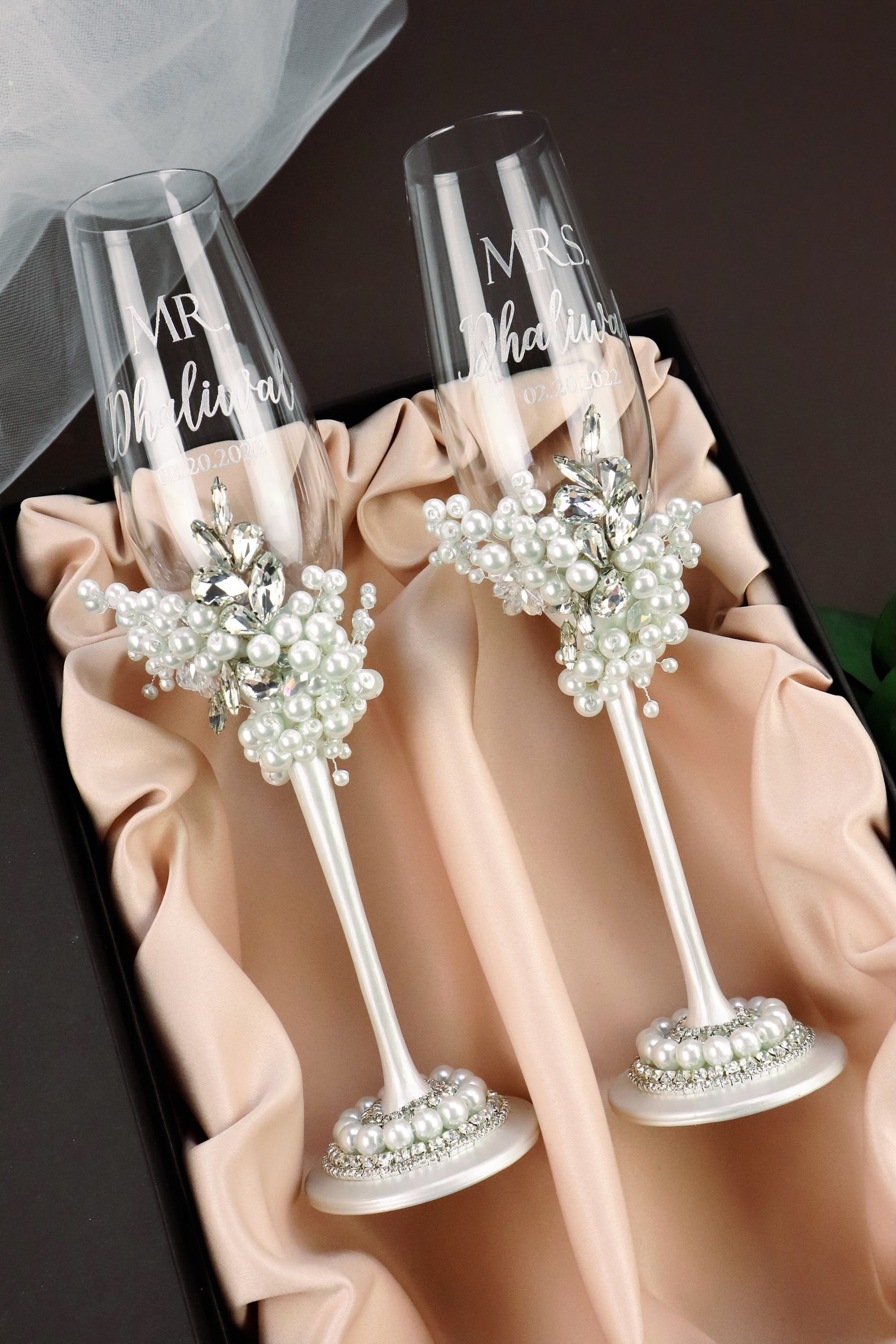 Handmade pearl champagne flute made by Etsy seller: Heavsoshop20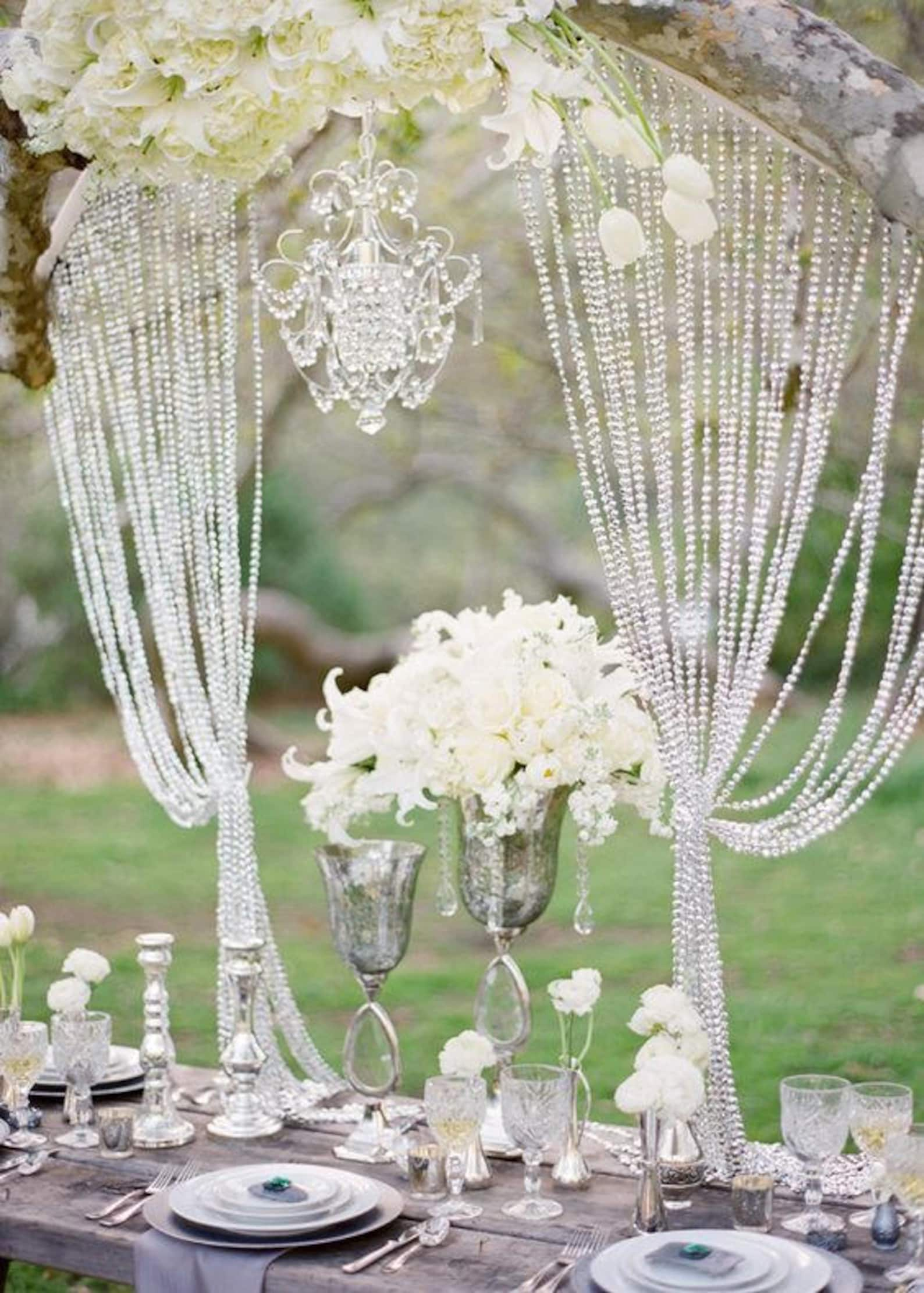 Pearl curtains hanging during reception.
As an Amazon Associate I earn from qualifying purchases.
About me: In 2010, while shopping for my bridal gown, I quickly realized that bridal stores had a very small selection (or none!) of lace mantilla veils. I ended up getting my veil from Spain and after all the compliments I received on my wedding day about my veil, I knew I had to bring these beautiful, authentic, quality, Spanish-made veils to brides in the US. My husband and I planned the whole business on the plane during our honeymoon! Today, we carry a large selection online of mantilla veils and have been featured in many bridal blogs and magazines. Read more about our story here.
Get Flawless Bridal Style. Unsure which lace veil is right for your dress? We can help! Click Here to get your FREE veil consultation.
Every love story has its unique beginning and Real Bride's Allyson and her hubby's began at the Catholic Church. In this Real Bride post, Allyson shares the details of why St. Anthony's Catholic Church in Des...