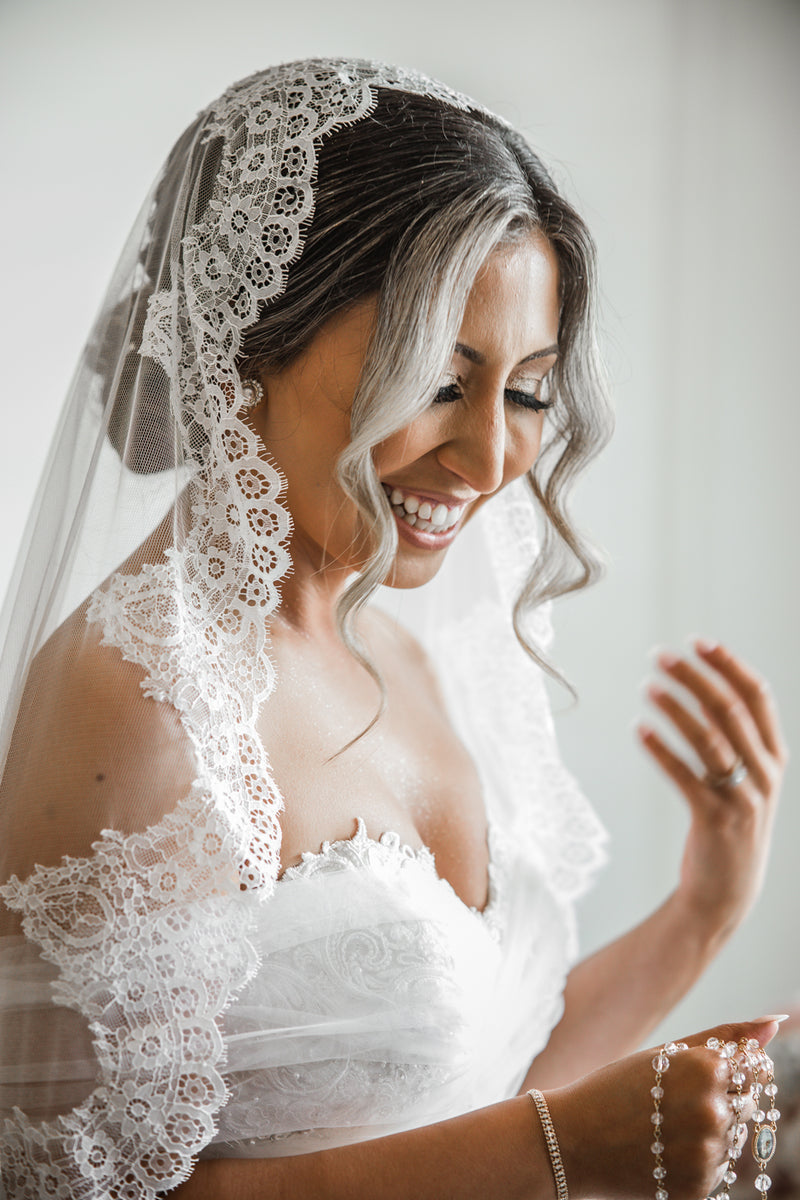 One of the greatest things about having a business online is the opportunity to serve brides all over the world. It's always such a compliment to get orders in from other countries. Real Bride Chanel and Matt's wedding took place in a beautiful catholic cathedral and had their reception at the Hyatt Place Melbourne, Essendon Fields.
Chanel's low bun and soft curls created a stunning bridal look with her veil, the Valentina mantilla veil in cathedral length. Her style choices are effortlessly timeless. Below are Chanel's stunning photos along with some questions she answered about her wedding day.
All beautiful photos were taken by Twenty One Wedding & Portrait Studio
I am so happy I get to share my experience with you and other brides around the world as my veil was absolutely breathtaking. I received so many compliments on the day and after about how amazing it was. I don't think any other veil would have suited me, it was just perfect. The photo of getting into the car is honestly one of my personal favourites, the photographer really captured a magical moment there! 
The Venue
We chose St. Monica's Catholic Cathedral for our ceremony as it is in the area we both spent most of our lives and it is close to our homes which made it easier for our families. Also, it is a very beautiful church!
The Mantilla
My mother is South American so I always knew I wanted to wear a mantilla on my wedding day. No other veil compares to a mantilla.
The Mantilla Company
I searched far and wide for the perfect mantilla and when I finally came across your website I knew I had finally found the perfect place, as the quality was better than any I had seen before and you understand the importance of a mantilla veil. I knew when I placed my order I was getting the best of the best. 
Advice for future brides
As a bride on your wedding day make sure to relax and let the day flow. If you have made sure that everything is good to go before your big day, please do not stress on the actual day, just enjoy it and be happy that you are marrying the love of your life. As a wife, be kind to your partner and to yourself and when times get a little hard, remember that you're in it together as a team.
The start of a tradition
My sisters now want to use my mantilla veil for their own weddings and start our own tradition to pass down to our future generations. So, thank you so much for giving us this special item to cherish forever.
Other vendors who helped make Chanel's day beautiful: 
Video:
LENSURE Video Production
, Church:
St Monica's Catholic Church
, Reception:
Hyatt Place Melbourne
,
Essendon Fields
, Transport:
Always Classic Cars
, DJ/MC:
DJ Mangal
, Florist:
lillypadweddings
, Hair: @
Kxhairdesign
, MUA: @dommitro_mua, Decoration:
Florarie
, Decoration:
Abracadabra Events
, Cake:
Eiffel Tower Cakes
About me: In 2010, while shopping for my bridal gown, I quickly realized that bridal stores had a very small selection (or none!) of lace mantilla veils. I ended up getting my veil from Spain and after all the compliments I received on my wedding day about my veil, I knew I had to bring these beautiful, authentic, quality, Spanish-made veils to brides in the US. My husband and I planned the whole business on the plane during our honeymoon! Today, we carry a large selection online of mantilla veils and have been featured in many bridal blogs and magazines. Read more about our story here.
Get Flawless Bridal Style. Unsure which lace veil is right for your dress? We can help! Click Here to get your FREE veil consultation.
Every love story has its unique beginning and Real Bride's Allyson and her hubby's began at the Catholic Church. In this Real Bride post, Allyson shares the details of why St. Anthony's Catholic Church in Des...