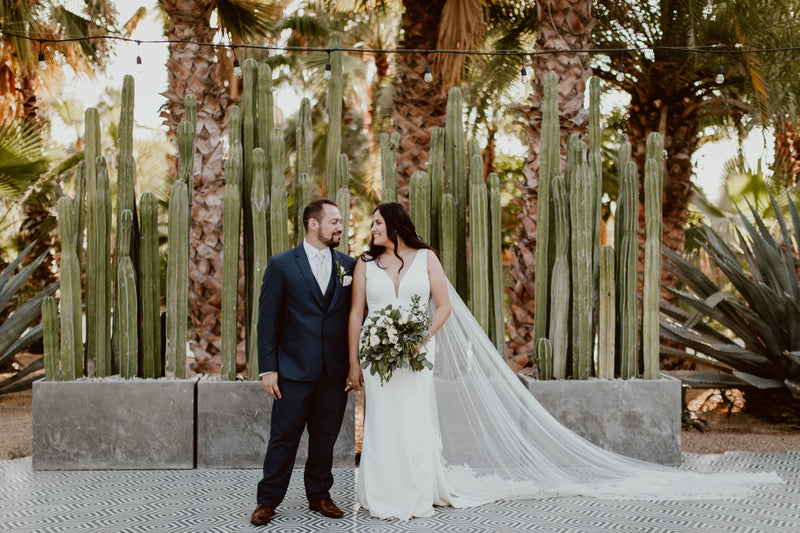 In 2020, the COVID pandemic impacted many aspects of our lives, including weddings. However, love always finds a way, and couples around the world still tied the knot despite the challenges. In this blog post, you'll hear from Real Bride, Elizabeth, and get to see photos of her beautiful wedding in Mexico that took place during the pandemic. From the stunning venue to the safety measures in place, she'll share all the details of her unforgettable celebration!
How we had a destination wedding amidst COVID: 
As an Amazon Associate I earn from qualifying purchases.
At my wedding, we had to take a lot of measures for ceremony and reception. We had to take social distancing into consideration. All the vendors personally had to follow strict protocol and wear face coverings. They took our temperature upon entering & leaving all venues. All places provided hand sanitizer as well.  Due to it being a destination wedding we took precautionary measures to quarantine before we took off to Cabo and get tested after we got back. ( All came back Negative ;) ) Due to our small intimate wedding size we decided we didn't want to postpone our wedding for the second time. All locations were still closed due to Covid, but decided to open just for us. So it made the whole experience even better!
The Reason we chose Cabo:
I chose Cabo because I didn't remember when was the last time I had a vacation with my entire family. Or when we were ever going to get to say we all vacationed together with both our families. A destination wedding isn't a one day thing. It's days of celebrating the love we have for each other, but most importantly the love we have for our families. 
Our location at Acre Baja in San Jose Del Cabo, was chosen for many reasons.
 It's a farm to table venue 
 ACRE rescues injured/abandoned dogs. Then adopts them out to the States and Canada. (I also Foster dogs so this was a BIG PLUS for me)
 Acre is a beautiful hidden gem in Cabo. It's like being in Bali in the desert! 
We loved the idea of our guest surrounded by the Mango orchards.
Our wedding was a surprise wedding too!
Our guest had NO IDEA where we were getting married. Our invitations were minimal and did not disclose the location. I LOVE surprises, and wanted my family to experience that too. So all events we had planned were a complete surprise. Just the way we wanted it. 
Why I chose a mantilla veil:
I used to find
bridal magazines
my go to pick up when checking out in the stores. Most girls often go for the celebrity gossip. I would be a sucker for the newest month edition of
Martha's wedding
, Brides, and
The Knot
magazine. It was in one of those magazines that I remember seeing a mantilla veil for the very first time. I knew instantly that a mantilla veil was what I was going to wear on my special day! The veil is a statement piece to me that makes a bride feel like a BRIDE. You are incomplete without it. Since then I knew my wedding veil had to be a one of a kind statement piece. I didn't go with a trendy dress, my dress would best be described as minimal, classy, elegant and my veil a timeless piece! I definitely went with something longer than normal to make my future husband knows I'm coming! (lol).
Why I chose The Mantilla Company:
I chose The Mantilla Company because of the unmatched customer service and quality of the veil. The uniqueness that the veil comes from Spain and is of french alencon lace to match my shoes is why I went with the
Marisol veil

.
Other vendors who helped make Elizabeth's day beautiful: 
About me: In 2010, while shopping for my bridal gown, I quickly realized that bridal stores had a very small selection (or none!) of lace mantilla veils. I ended up getting my veil from Spain and after all the compliments I received on my wedding day about my veil, I knew I had to bring these beautiful, authentic, quality, Spanish-made veils to brides in the US. My husband and I planned the whole business on the plane during our honeymoon! Today, we carry a large selection online of mantilla veils and have been featured in many bridal blogs and magazines. Read more about our story here.
Get Flawless Bridal Style. Unsure which lace veil is right for your dress? We can help! Click Here to get your FREE veil consultation.
Every love story has its unique beginning and Real Bride's Allyson and her hubby's began at the Catholic Church. In this Real Bride post, Allyson shares the details of why St. Anthony's Catholic Church in Des...