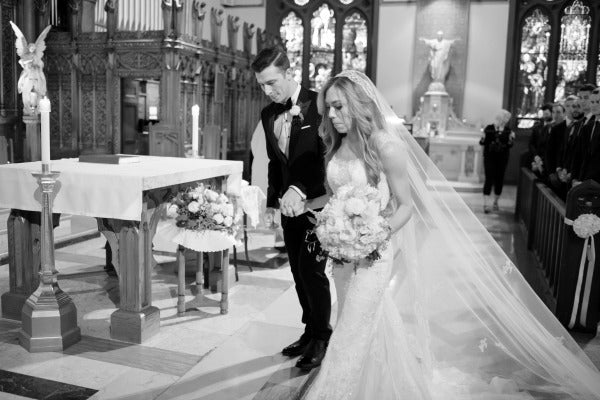 Where there is a cathedral wedding, there is bound to be countless gorgeous photographs from the wedding day. The stunning architecture, ornate
mosaics
, and dramatic alters offer the perfect photo opp at every turn.
If you've envisioned your wedding in a beautiful cathedral, you're in luck! Some of the most stunning churches are right here in the US. These 11 stunning structures provide a breathtaking backdrop for a timeless wedding.
Cathedral of the Most Blessed Sacrament- Detroit, Michigan
Cathedral of Saint Paul- St. Paul, Minnesota
Sacred Heart Catholic Church- Tampa, Florida
Saint Sophia Cathedral- Los Angeles, California
Christ the King- Atlanta, Georgia
Cathedral of the Holy Cross- Boston, Massachusetts
St. Helena Catholic Church- St. Helena, California
St. Mary of the Angels- Chicago, Illinois
Christ Cathedral Church- Houston, Texas
Grace Cathedral- San Francisco, California
Wayfarers Chapel- Palos Verdes, CA
Save
Save
Save
Save
Save
Save
Save
Save
Save
Save
Save
About me: In 2010, while shopping for my bridal gown, I quickly realized that bridal stores had a very small selection (or none!) of lace mantilla veils. I ended up getting my veil from Spain and after all the compliments I received on my wedding day about my veil, I knew I had to bring these beautiful, authentic, quality, Spanish-made veils to brides in the US. My husband and I planned the whole business on the plane during our honeymoon! Today, we carry a large selection online of mantilla veils and have been featured in many bridal blogs and magazines. Read more about our story here. 
Celebrate your wedding in Style. If you would like my expert advice on how which veil works best with your dress, Click Here to get started.
Every love story has its unique beginning and Real Bride's Allyson and her hubby's began at the Catholic Church. In this Real Bride post, Allyson shares the details of why St. Anthony's Catholic Church in Des...