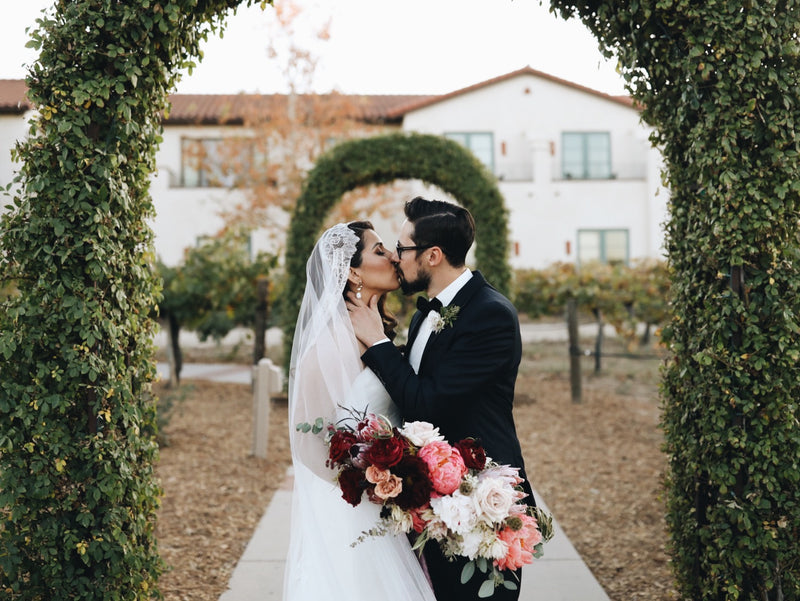 If you've decided on the perfect mantilla for your dress, you're half way done! The next step is to select whether you will be wearing a drop veil blusher or no blusher at all. There's always a lot of uncertainty or questions surrounding this step, so here is a quick rundown on what a drop veil blusher is, how to wear it, and whether or not you should have one.
What is a drop veil blusher?
A blusher is the portion of the veil that drapes over the face. A drop veil is a style of blusher and refers to how the comb is sewn to the veil. The attached hair comb is sewn flat so that there is no volume. It will sit flat when draped over your head. If you loved Kate Middleton wedding veil then a drop veil is perfect for you! Check out these photos below of our cathedral length veils with a 30" drop-veil blusher.
How to wear a drop veil
With a blusher, you'll get more style choices. Blushers can be worn over the face, as is tradition. They can also be worn pulled back, away from the face as you walk down the aisle. This will give you a nice 2-tier layered look from the back. If you purchase a veil from The Mantilla Company, a comb will already be attached for you. Bear in mind that you will not be able to remove the blusher.
What is the difference between a drop-veil blusher and no blusher?
If you prefer a single layered look, the no blusher option is the best choice for you. The no blusher means that the veil will drape over the head and fall along the sides of your face. This style choice is considered a traditional Spanish look and will really showcase the lace on the mantilla as it will be lying against your hair. Like the blusher option, a comb will also be attached. 
What we offer:
Below are the 3 style options you can choose from when ordering a veil from The Mantilla Company. Whether you choose to have a blusher or not, your veil will have an attached hair comb. 
We mentioned the drop-veil blusher a lot but there are actually 2 types of blusher styles! If you love the look of a blusher but prefer a little more height and volume at the comb, go for a blusher with the gathered comb. Below are examples of the 3 blusher styles.
NO BLUSHER:
DROP-VEIL BLUSHER:
GATHERED COMB BLUSHER:
Definitely browse Pinterest to get boundless wedding veil inspiration! Still not sure if you should choose a drop veil blusher or not have a blusher? Contact me and it would be my pleasure to help you decide!
Product images were captured by the talented Cleveland-based photographer Emily Cunningham.  
About me: In 2010, while shopping for my bridal gown, I quickly realized that bridal stores had a very small selection (or none!) of lace mantilla veils. I ended up getting my veil from Spain and after all the compliments I received on my wedding day about my veil, I knew I had to bring these beautiful, authentic, quality, Spanish-made veils to brides in the US. My husband and I planned the whole business on the plane during our honeymoon! Today, we carry a large selection online of mantilla veils and have been featured in many bridal blogs and magazines. Read more about our story here.
Celebrate your wedding in Style. If you would like my expert advice on how which veil works best with your dress, Click Here to get started.
Every love story has its unique beginning and Real Bride's Allyson and her hubby's began at the Catholic Church. In this Real Bride post, Allyson shares the details of why St. Anthony's Catholic Church in Des...