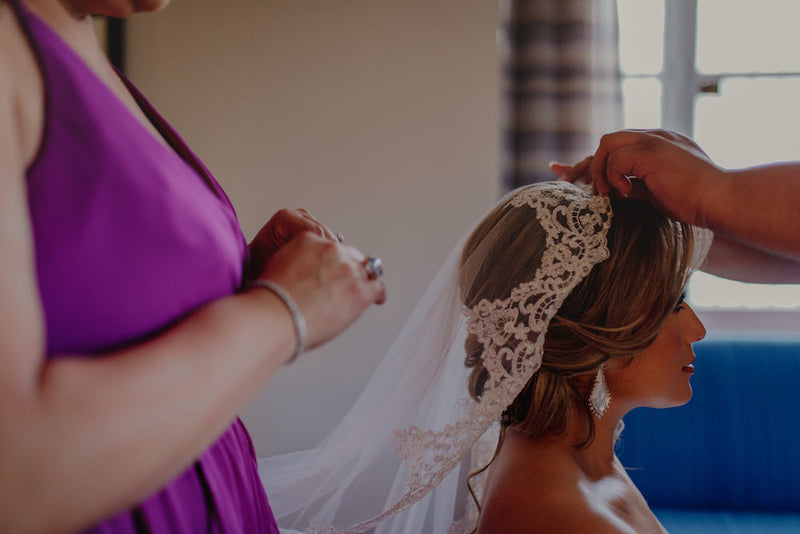 Olivia and Steven's wedding is so glamorous, colorful and rich with Mexican wedding traditions. This
Real Bride
wanted to pay homage to her Mexican heritage and her wedding did just that! From location, decor to wedding rituals, Olivia's wedding is sure to inspire and spark some ideas for your
Mexican themed wedding
. Scroll below to see how beautiful the embellished
Alejandra veil
pairs effortlessly with her beaded dress. 
All photographs were taken by San Antonio based photographer,
EncantoRojo
.
WHY THEY CHOSE THEIR WEDDING VENUE:
I chose
Mission San Jose in San Antonio, TX
for the wedding ceremony because of the beautiful history.  It also reminded me so much of the churches in Zacatecas, Mexico where my Dad is from. I wanted to tie my culture and heritage into the Mexican Fiesta theme I was wanting to create for our wedding.
I have always wanted a
mantilla veil
, and always dreamed of having one from when I can remember as a child.  I also felt that a mantilla veil would tie in my Latin culture and also because I felt it just completed my look and complimented my dress so well. 
WHY SHE CHOSE THE MANTILLA COMPANY: 
I chose
The Mantilla Company
because it was the most economical option I could find and still gave me the look I was going for.  I read the reviews and read nothing but good comments.  The cost was great, the customer service was fantastic, and the product was just BEAUTIFUL and everything I have ever dreamed of.  I would recommend The Mantilla Company to any bride looking for a beautiful veil!
About me: In 2010, while shopping for my bridal gown, I quickly realized that bridal stores had a very small selection (or none!) of lace mantilla veils. I ended up getting my veil from Spain and after all the compliments I received on my wedding day about my veil, I knew I had to bring these beautiful, authentic, quality, Spanish-made veils to brides in the US. My husband and I planned the whole business on the plane during our honeymoon! Today, we carry a large selection online of mantilla veils and have been featured in many bridal blogs and magazines. Read more about our story here.
Get Flawless Bridal Style. Unsure which lace veil is right for your dress? We can help! Click Here to get your FREE veil consultation.
Every love story has its unique beginning and Real Bride's Allyson and her hubby's began at the Catholic Church. In this Real Bride post, Allyson shares the details of why St. Anthony's Catholic Church in Des...