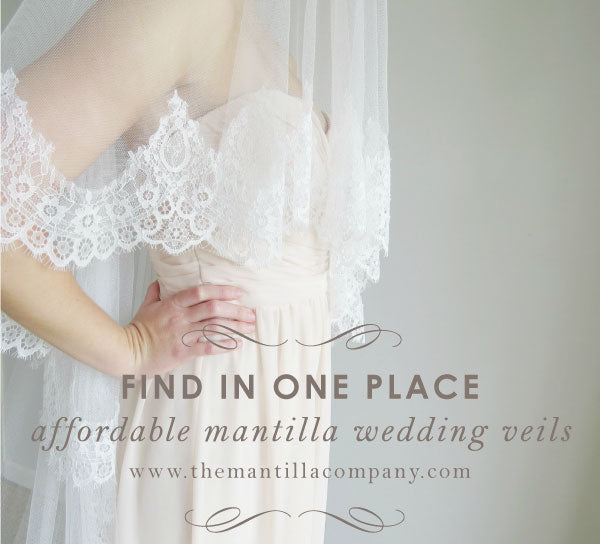 Now that you're engaged (congratulations!) and have started to search for wedding veils, you may have realized that finding the perfect one is not easy! Somewhere between working 40 hours a week, you have to schedule and meet with local bridal boutiques to find a dress and accessories that will pull your bridal look together. If your the type of bride who's dreamed of wearing a mantilla veil for her wedding day, you may be coming up short on the options available to you locally.
How The Mantilla Company can help:
If your are finding yourself stressed over your wedding veil quest, there is good news! The Mantilla Company is an online boutique created to help brides just like you find the perfect wedding mantilla veil. We carry a variety of authentic, handmade Spanish mantillas in assorted lengths and laces.
How it works:
Our mantilla veils are made just for you! You have the option to select the length and blusher style and takes 4-6 weeks to arrive. If you're in a hurry, we also offer ready to ship veils which mean they are stocked and ready to ship out to you within 1-2 business days. Once you get notification of your tracking number, you can expect to have your veil within 4-5 business days.
Once you get your veil:
Once your veil arrives, try it on with your dress- it's the perfect way to know if you love it or not! If you don't love it, you can make a return! We promise it's a hassle-free process. It is our goal to have all of our brides feel confident in their purchase and 100 percent beautiful as they walk down the aisle.
Find wedding veils on your time. Your search for the perfect mantilla doesn't have to be a stressful undertaking. Browse our collections of lace options. Our veils can be made into 3 standard sizes, fingertip length, floor length, and cathedral length. If you desire a different length, we also offer custom lengths! Creating a custom length is just one of the personalized options we offer. You can choose to have a half lace veil, a different comb setting and more. Be sure to contact me if you desire any of these customizable options.
About me: In 2010, while shopping for my bridal gown, I quickly realized that bridal stores had a very small selection (or none!) of lace mantilla veils. I ended up getting my veil from Spain and after all the compliments I received on my wedding day about my veil, I knew I had to bring these beautiful, authentic, quality, Spanish-made veils to brides in the US. My husband and I planned the whole business on the plane during our honeymoon! Today, we carry a large selection online of mantilla veils and have been featured in many bridal blogs and magazines. Read more about our story here.
Get Flawless Bridal Style. Unsure which lace veil is right for your dress? We can help! Click Here to get your FREE veil consultation.
Every love story has its unique beginning and Real Bride's Allyson and her hubby's began at the Catholic Church. In this Real Bride post, Allyson shares the details of why St. Anthony's Catholic Church in Des...