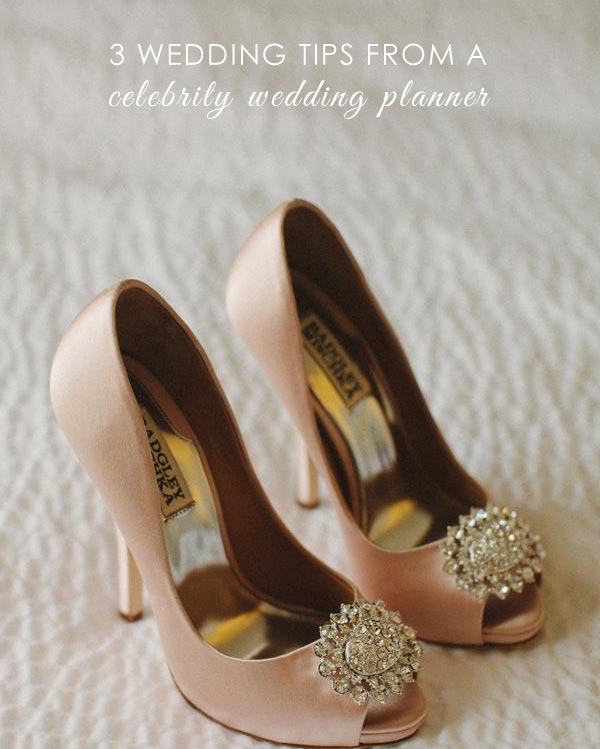 Style Me Pretty's one-on-one chat with celebrity party consultant, Mindy Weiss delivered nothing short of fabulous! The talented industry expert talked all things wedding and shared creative and amazing ideas to implement on your wedding day. Her number one tip was to keep your guests in mind by implementing personalized details throughout your reception. Here are Mindy's top 3 ideas for making your guests feel comfortable throughout the night.
Tip 1: Phone Charging Station
Most guests are taking their pictures on their phones and posting them to their social media accounts which can really drain a phone's battery. Providing a cell phone charging station at your reception is an excellent way to keep your guests' comfort level a priority. She suggests keeping cords hidden in garden boxes filled with grass or flowers. Another creative suggestion is to have signage with your wedding's hashtag. This ensure you and your guests will get to see all the photos taken on your big day.
Are you the DIY Type?
As an Amazon Associate I earn from qualifying purchases.
Check out this tutorial to make a similar charging station for your wedding day.
I also found so many beautiful garden boxes on Amazon. Below are just a few of my favorites!
Rustic wooden box with a a whitewash finish.
Plastic containers for a modern feel.
Tip 2: Thank you cards at each place setting
Gratitude is the best attitude! For bigger ceremonies, conveying your gratitude to every guest can be a tall order. Creating a thank you card at each place setting is a small detail that makes a big impact. It allows you to express your appreciation way before you send out thank you cards. These are so cute!
Tip 3: Pretty Packaged Ear Plugs
Today's music is louder than the decades before and may be off putting for elder guests. Package earplugs in a cute way that matches your wedding decor to ensure your older guests are comfortable and enjoying the reception. Place your wedding logo on these muslin bags with these earplugs and you can cross this wedding to-do off your list!
Do you plan on using these ideas in your wedding? Leave a comment below and tell me what you think!  
About me: In 2010, while shopping for my bridal gown, I quickly realized that bridal stores had a very small selection (or none!) of lace mantilla veils. I ended up getting my veil from Spain and after all the compliments I received on my wedding day about my veil, I knew I had to bring these beautiful, authentic, quality, Spanish-made veils to brides in the US. My husband and I planned the whole business on the plane during our honeymoon! Today, we carry a large selection online of mantilla veils and have been featured in many bridal blogs and magazines. Read more about our story here.
Get Flawless Bridal Style. Unsure which lace veil is right for your dress? We can help! Click Here to get your FREE veil consultation.
Every love story has its unique beginning and Real Bride's Allyson and her hubby's began at the Catholic Church. In this Real Bride post, Allyson shares the details of why St. Anthony's Catholic Church in Des...