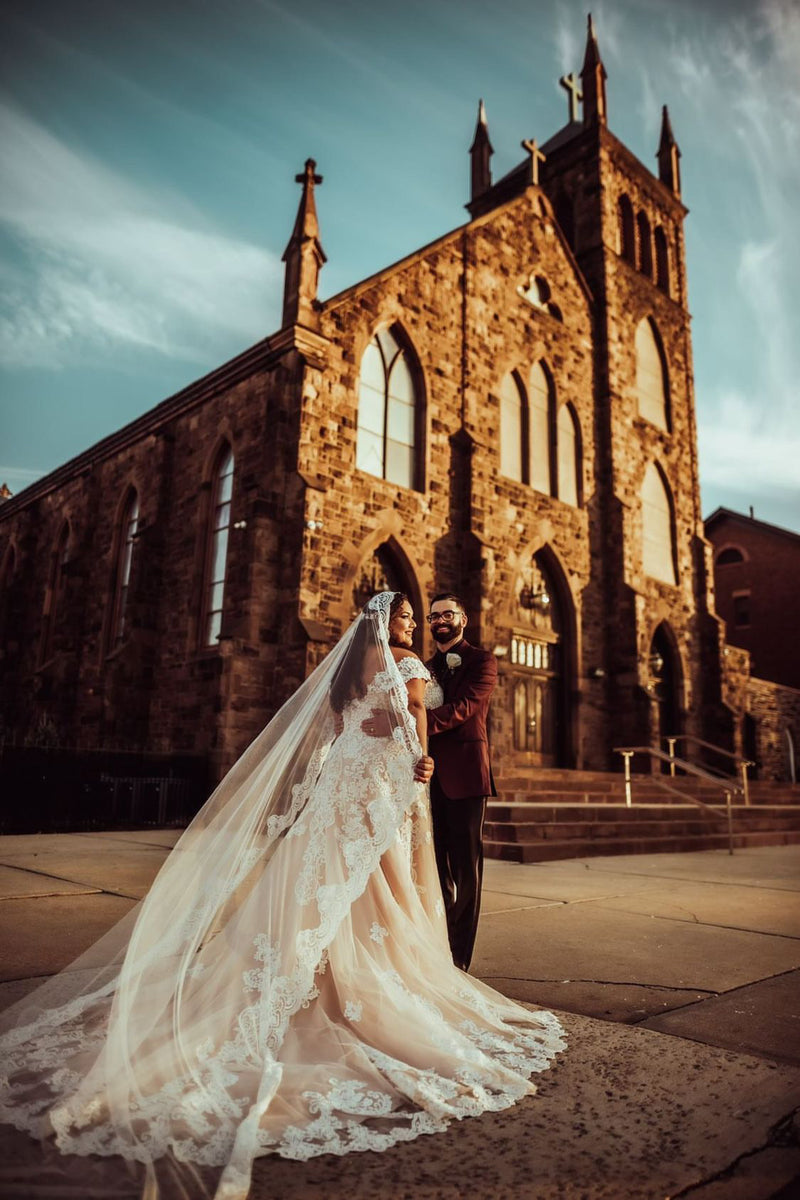 When it comes to weddings, traditional is always in style! A cathedral length mantilla veil is equally modern and classic which makes it the perfect staple for tradition on your wedding day. All of our mantillas are handmade with the utmost attention to detail. The materials from which they are made truly make them a special,
heirloom quality piece
that can be passed on for many generations.
Turn around times
Our collection of veils are hand crafted and made to order. This means it will take 4-6 weeks for your veil to arrive. If you're wedding is less than 4 weeks away, browse the Ready to Ship section to find a selection that ships in 1-2 days! 
Tulle details
Our tulle is so soft and drapes beautifully! You can get a sample here to see for yourself. We also offer polka dot tulle and tulle with delicate floral appliques throughout. There is enough spacing between each flower so that the design is not too overwhelmed. In the photo above, the real bride is wearing the Ariana mantilla veil with a plain tulle. In the photo below, the model is shown in the Natalia mantilla veil with a flower tulle.
Veil colors
Most of our veils are available in the most popular bridal color, ivory. We also have diamond white which is a soft white. Ordering a sample before ordering a veil is the best way to know which veil color will work best for your dress. You receive a store credit for each sample to use towards the cost of your veil. It is a win-win situation!
About me: In 2010, while shopping for my bridal gown, I quickly realized that bridal stores had a very small selection (or none!) of lace mantilla veils. I ended up getting my veil from Spain and after all the compliments I received on my wedding day about my veil, I knew I had to bring these beautiful, authentic, quality, Spanish-made veils to brides in the US. My husband and I planned the whole business on the plane during our honeymoon! Today, we carry a large selection online of mantilla veils and have been featured in many bridal blogs and magazines. Read more about our story here.
Get Flawless Bridal Style. Unsure which lace veil is right for your dress? We can help! Click Here to get your FREE veil consultation.
Every love story has its unique beginning and Real Bride's Allyson and her hubby's began at the Catholic Church. In this Real Bride post, Allyson shares the details of why St. Anthony's Catholic Church in Des...