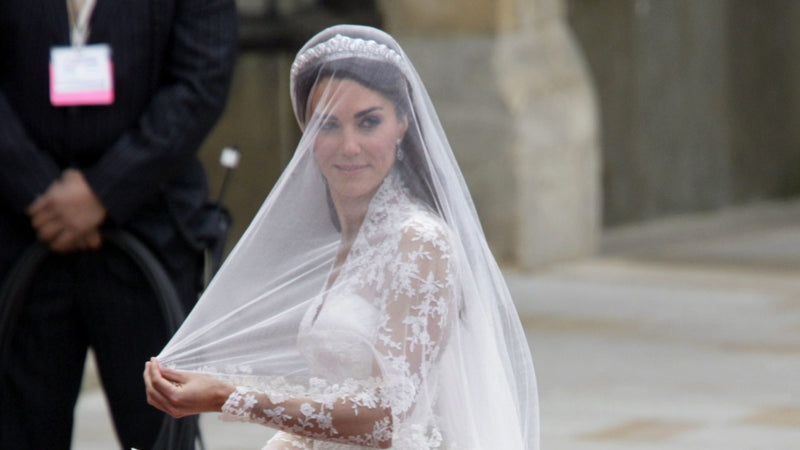 A question I get asked a lot is, "
What is a drop veil?
". Here at
The Mantilla Company
, you have the option to have drop veil blusher or not have a blusher at all. If you opt to not have a blusher, you will be able to drape the veil over your head so that the lace frames the sides of your face. Selecting the drop veil blusher means the comb is attached further back from the edge of the veil so that you may choose to drape the veil over your face.
Made famous by Grace Kelly and more recently by Kate Middleton, the drop veil does not have any gathering at the comb. The tulle is sewn flat to the comb to avoid any volume and sits flat when draped over your head. It is a very soft, delicate and classic look that is equally modern. It is perfect for any bride who doesn't want a "poofy" veil.
Out of all the styles available, a drop veil is considered to be the most sheer. It is one single layer of tulle. It's simple silhouette, lends itself to decorative hair combs,  bridal hair vines,  flowers, and  halos. Although traditionally, a blusher is worn over the face, more and more brides are choosing to wear the blusher pulled back as a two layer veil. Both looks are just as gorgeous! When it comes to how you should wear your hair, it looks best with a lower updo or with your hair down.

This is just one standard customizable option available. If you prefer "the poof", b
e sure to email me and I can incorporate a little volume into your veil. Are you looking for a certain length, style of lace or color?
I will personally work with you to create the custom veil you're looking for!
As an Amazon Associate I earn from qualifying purchases.
About me: In 2010, while shopping for my bridal gown, I quickly realized that bridal stores had a very small selection (or none!) of lace mantilla veils. I ended up getting my veil from Spain and after all the compliments I received on my wedding day about my veil, I knew I had to bring these beautiful, authentic, quality, Spanish-made veils to brides in the US. My husband and I planned the whole business on the plane during our honeymoon! Today, we carry a large selection online of mantilla veils and have been featured in many bridal blogs and magazines. Read more about our story here.
Get Flawless Bridal Style. Unsure which lace veil is right for your dress? We can help! Click Here to get your FREE veil consultation.
Every love story has its unique beginning and Real Bride's Allyson and her hubby's began at the Catholic Church. In this Real Bride post, Allyson shares the details of why St. Anthony's Catholic Church in Des...